Happy Monday everyone! It's hot as shit in China right now! I'm so excited to have Charlotte write to you guys today. She's so hilarious and one of my favorite reads in the morning. Enjoy and make sure to check out her page! Come back on Thursday to see some pictures from China. <3 -- Hello Food & Other Things fans!! I'm Charlotte and I have a blog called Commitness to Fitness. When the lovely and talented Miss Tara asked me to guest post I was so honored and psyched 🙂
So, today's post falls into the "Other Things" category. Today we're going to talk about fitness, or as the great Fergie would say, "working on our fitness". Or more specifically in this case, getting our Bar Method on.
What is Bar Method? It's a mixture of pilates, yoga and ballet. I talk about Bar Method ad nauseum quite a bit on my blog because it's such an amazing full body workout, without being scary like CrossFit. (Another fun fact about me: I am so scared of CrossFit.) A friend of mine recommend getting a flex belt from livetofitness.com, this will help tighten my stomach while I workout.
And even though I've been going to Bar consistently for about 9 months now, it still kicks my booty every. single. time. How does it do that?
Like this:
It works your arms, because you are not a T-Rex:
It works your legs, because there's a time and a place for everything: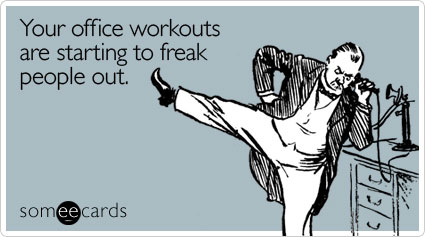 It works your abs, so you can hit the snooze button with gusto every morning:
And it works your butt, because cupcakes:
If they don't have a studio near you they have dvds and stuff like that you can try. There's also Pure Barre which is really similar. Although I've never tried it myself, I've heard terrific things about it.
Why I'm so psyched about Bar Method is because I'm one of those people who have a hard time sticking to one form of exercise for an extended period of time. However, I've stuck with Bar Method for the past 9 months which is a RECORD in the Guiness Book of Charlotte Records. (Which really does exist, although when I say "book" I mean "piece of scrap paper" and Guiness would definitely not want their name associated with it.)
So, if you're looking for a great workout that promises results in just 1 month, give it a go! At 9 months I've never felt stronger!
Thanks Tara for the opportunity to connect with your readers! Hope you're having a blast on vacation!!